Rhinoplasty, commonly known as a nose job, is a popular surgical procedure that reshapes or resizes the nose for aesthetic or functional purposes. One of the most common concerns after rhinoplasty is swelling, which can cause discomfort and anxiety for patients. In this article, we will discuss the causes of swelling after rhinoplasty, the normal swelling timeframe, ways to manage swelling, and when to be concerned about excessive or persistent swelling.
What Causes Swelling After Rhinoplasty?
Swelling after rhinoplasty surgery is a normal part of the healing process. During the surgical procedure, the nasal skin, bones, and cartilage are manipulated, which can cause trauma to the tissues and blood vessels. This trauma results in an inflammatory response, leading to swelling as the body tries to repair the damaged tissues. Factors such as the surgical technique, the extent of the procedure, and individual healing characteristics can influence the degree of swelling experienced by each patient.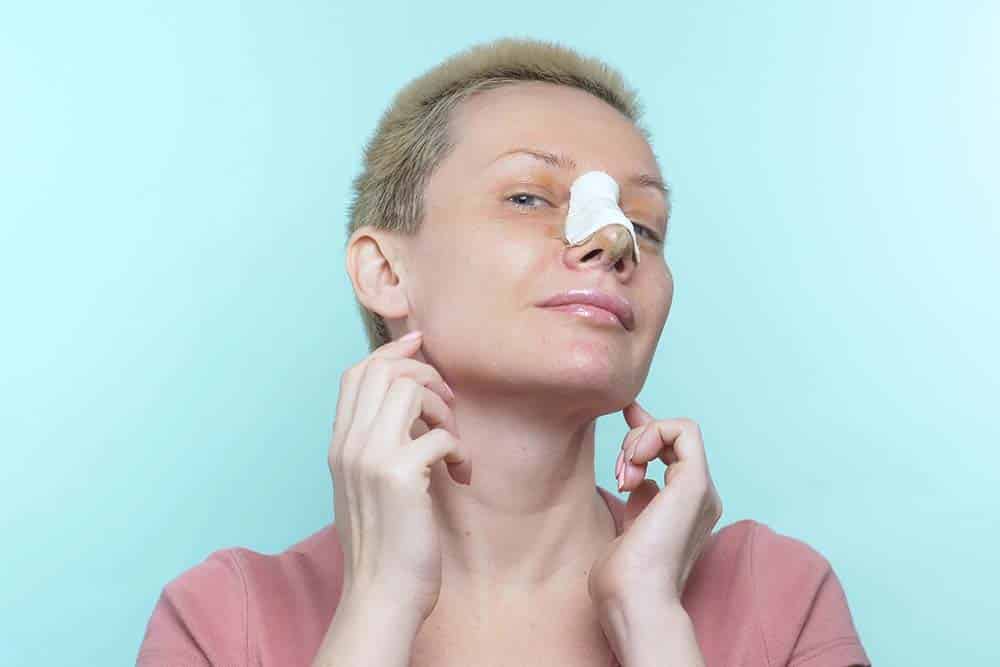 Normal Swelling Timeframe After a Rhinoplasty Procedure
The healing process after rhinoplasty can be divided into several stages, with swelling typically decreasing over time. Here is a general timeline of the rhinoplasty recovery process:
Week 1: Significant swelling, tenderness, difficulty breathing through the nose, splint and nasal dressings, bruising around the eyes, cheeks, and lips, puffiness at the nasal tip, uneven swelling, and asymmetry.
Week 2: Significant reduction in swelling, remaining bruising can be concealed with makeup, new nose shape becomes more distinguishable, return to work if not too strenuous, avoid intense activities for up to 6 weeks.
Week 3-4: Dramatic reduction in swelling, visible signs of surgery mostly gone, new nose more defined, clearance for moderate exercise, possible persistent swelling for revision rhinoplasty or thick skin patients.
Months 2-3: Continued healing and swelling reduction, full results begin to show, stable bone structure allows for wearing glasses and resuming weight-bearing exercises.
Months 3-6: The resolution of numbness or prickling sensations on the skin or inside the nose begins.
Months 6-12: Final results visible, minimal to no swelling, repositioned cartilage fully conformed to the new shape, nasal tip more refined.
Factors that can impact the recovery timeline include skin texture and thickness, revision surgery, and extensive nasal reconstruction.
Tips for dealing with swelling after rhinoplasty.
To reduce post-operative swelling and speed up the healing process, follow these recommendations:
Adhere to your surgeon's after-care instructions.
Keep your head elevated for several days after surgery.
Use ice packs on your nose for 10-20 minutes at a time, every 1-2 hours for the first three days.
Avoid strenuous activities for 2-3 weeks.
Do not blow your nose for at least one week after surgery.
Avoid sunburn and wear sunblock on your nose.
Do not swim for a week.
Limit dietary salt intake to help resolve swelling faster.
When to Worry About Swelling After Rhinoplasty
While some degree of swelling is normal and expected after rhinoplasty, there are instances when excessive or persistent swelling may be a cause for concern. Contact your surgeon immediately if you experience any of the following:
Severe swelling that does not improve or worsens over time
Uneven swelling that appears asymmetrical and lasts for more than 1 week
Swelling accompanied by severe pain, fever, or discharge from the surgical site
Difficulty breathing through the nose due to swelling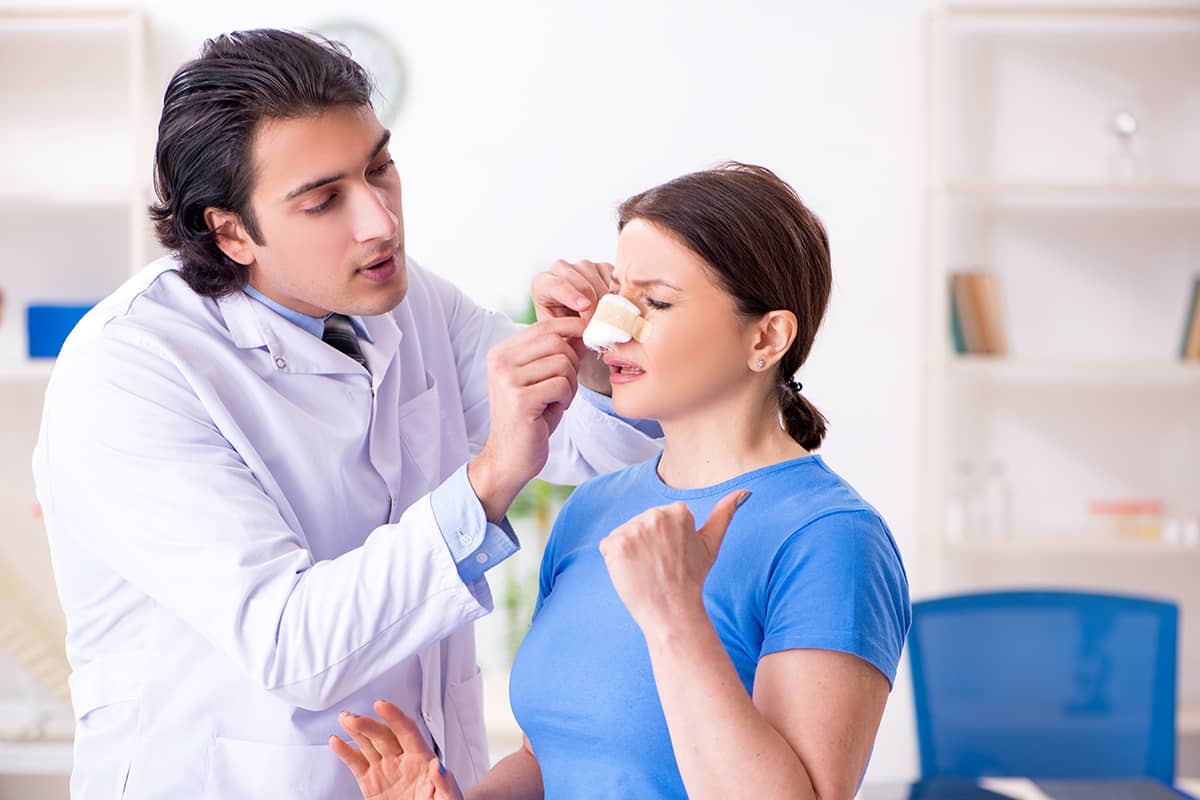 Signs and Symptoms of Complications After Rhinoplasty
Although complications after rhinoplasty are rare, it is crucial to be aware of potential issues that may arise. Some signs and symptoms of complications include:
Infection: Fever, increased pain, redness, and pus-like discharge from the surgical site
Hematoma: A collection of blood under the skin, causing pain, swelling, and discoloration
Septal perforation: A hole in the nasal septum, leading to crusting, bleeding, and difficulty breathing
Skin necrosis: Dead skin tissue due to compromised blood supply, resulting in darkening and scabbing of the skin
If you suspect any complications, contact your surgeon immediately for evaluation and appropriate treatment.
Residual Swelling
In some cases, residual swelling may persist beyond the expected recovery timeline. This swelling can be due to factors such as thick nasal skin or a history of revision rhinoplasty. While this prolonged swelling can be frustrating, it is essential to be patient. If you are concerned about residual swelling, discuss your concerns with your surgeon, who can provide guidance on managing this issue.
Facial Swelling
In addition to nasal swelling, some patients may experience facial swelling after rhinoplasty. This swelling is typically temporary and will subside as the healing process progresses. Remember that the healing process after rhinoplasty takes time, so give your body the opportunity to fully recover. If you have concerns about your swelling or recovery, always consult your surgeon for guidance and reassurance.
Nasal Passages Obstruction
Swelling after rhinoplasty may sometimes cause temporary obstruction of the nasal passages, making it difficult to breathe through the nose. To alleviate nasal congestion, you can use saline nasal sprays as recommended by your surgeon. However, if you experience persistent or severe nasal obstruction, contact your surgeon to discuss potential causes and treatments.
How to Relax and Promote Healing After Rhinoplasty
Promoting a relaxed and healing environment is essential for a successful rhinoplasty recovery. Here are some tips to help you relax and heal after your procedure:
Follow your surgeon's aftercare instructions diligently.
Get plenty of rest.
Stay hydrated by drinking lots of water.
Eat a balanced diet rich in vitamins and minerals to support your body's healing process.
Practice deep breathing exercises and meditation to reduce stress and promote relaxation.
Avoid strenuous activities and follow your surgeon's guidelines on when to resume normal activities.
Keep a positive mindset and be patient with your recovery process.
Tips on How to Minimize Swelling After a Nose Job
To help minimize swelling after your rhinoplasty procedure, consider the following tips:
Apply cold compresses to your nose and face for the first 72 hours after surgery, as recommended by your surgeon.
Sleep with your head elevated for the first few days post-surgery.
Avoid strenuous activities and exercise for at least 2-3 weeks, or as advised by your surgeon.
Limit your sodium intake to help reduce fluid retention and swelling.
Stay hydrated by drinking plenty of water.
Eat a balanced diet, including foods rich in vitamins and minerals, to support your body's healing process.
Attend all follow-up appointments and follow all of your surgeon's aftercare instructions.
By following these tips, you can help minimize swelling and promote a smooth recovery after your rhinoplasty procedure. Remember, patience is key during the healing process, and it's essential to give your body the time it needs to fully recover.
If you have any questions about rhinoplasty swelling or would like to schedule a rhinoplasty consultation, call the office at 609-279-0009. Dr. Nicole Schrader is a double board-certified facial plastic surgeon located in New Jersey. She will be able to learn your specific needs and goals, help you find out what your options are, and determine if this procedure is the best fit for you.