Collagen is what gives volume, flexibility, and strength to healthy, young skin. As a part of the aging process, your own natural collagen breaks down, diminishing facial volume and elasticity. This loss of elasticity and volume results in wrinkles, facial lines, and skin laxity – all of which rob your skin of its youthful, fresh appearance.
What is Radiesse?
Ideal wrinkle reduction is achieved by replenishing your facial volume loss. RADIESSE Volumizing Filler is a cosmetic product that utilizes water-based gel with calcium-based microspheres to achieve an immediate volumizing and lifting effect, minimizing the visible signs of aging. But what's unique about RADIESSE® Volumizing Filler is that it acts as a scaffold under the skin, providing structure and stimulating your own natural collagen to grow. This process continues for several months, which extends the initial effect of RADIESSE® Volumizing Filler. When injected by New Jersey plastic surgeon Dr. Nicole Schrader, you will achieve natural results that are clinically proven to last a year or more in many patients.
If you've been considering getting RADIESSE injections, please request a consultation online, or call Dr. Schrader's office at 609-279-0009.
Why choose RADIESSE Volumizing Filler?
It is the only filler that immediately replenishes lost volume and stimulates the production of your own natural collagen for long-lasting results. It is clinically proven to last a year or more in many patients. RADIESSE® patients are significantly more satisfied than patients treated with other leading wrinkle fillers. It is FDA-approved to mix with lidocaine to significantly reduce injection-related pain.
Treatment with RADIESSE® Volumizing Filler is quick, comfortable, and convenient, with immediately visible, long-lasting results. Experience what millions worldwide have and begin your journey towards a naturally, more refreshed you today.
Which areas does Radiesse treat?
Radiesse is a versatile dermal filler that has gained popularity among individuals looking to restore the youthful appearance of their faces. This FDA-approved dermal filler is primarily used to address facial wrinkles and volume loss, especially in areas such as nasolabial folds, smile lines, marionette lines, jowls, and deep wrinkles.
Nasolabial folds, also known as smile lines, are the creases that run from the nose to the corners of the mouth. They are one of the most common signs of aging and can be effectively treated with Radiesse injections. Similarly, marionette lines, which are the lines that run down from the corners of the mouth, can also benefit from this treatment.
Radiesse can also be used to address jowls by providing a subtle lift and contour to the facial skin. Volume loss, another common sign of aging, can also be restored with these injections as it works to stimulate the production of collagen in the skin. This results in plumper, smoother skin that looks more youthful.
Overall, Radiesse is an effective anti-aging solution for individuals looking to address facial wrinkles, nasolabial folds, jowls, and volume loss. It is a calcium-based injectable filler that can provide noticeable improvement in these areas with minimal downtime. Patients can resume their normal activities after the injection process, although strenuous exercise and other activities should be avoided for a short period.
The Radiesse Procedure
The procedure begins with a private consultation with a board-certified plastic surgeon or a cosmetic dermatologist who has extensive experience with dermal filler treatments. During the cosmetic consultation, the patient can discuss their desired outcomes with the physician and receive information about the possible risks and side effects associated with Radiesse treatment. The physician will also assess the patient's medical history to determine whether they are a good candidate for the procedure.
Before administering the injections, the treatment area is thoroughly cleaned and disinfected, and ice packs may be applied to reduce any discomfort or swelling. The physician then administers Radiesse injections directly into the target areas using a fine needle or a blunt-tipped cannula. The injection process typically takes no more than 30 minutes, depending on the size and number of the areas being treated.
Radiesse works by stimulating collagen growth in the skin, providing long-lasting results that can last up to a year or more. The calcium hydroxylapatite microspheres act as a scaffolding agent, promoting the production of new collagen and elastin fibers to plump up the skin and reduce the appearance of wrinkles and fine lines. Over time, the body naturally absorbs the microspheres, leaving behind only the new collagen that was created.
Important RADIESSE Treatment Considerations
RADIESSE® Volumizing Filler is FDA-approved for subdermal implantation for the correction of moderate to severe facial wrinkles and folds, such as nasolabial folds.
After the treatment, the patient will be provided with aftercare instructions that include avoiding strenuous exercise or activity for the first 24 hours post-treatment. Mild discomfort, swelling, and bruising may be experienced in the treated areas, but this usually subsides within a few days. To minimize the risk of complications, patients should always choose a reputable and experienced practitioner for their Radiesse treatment.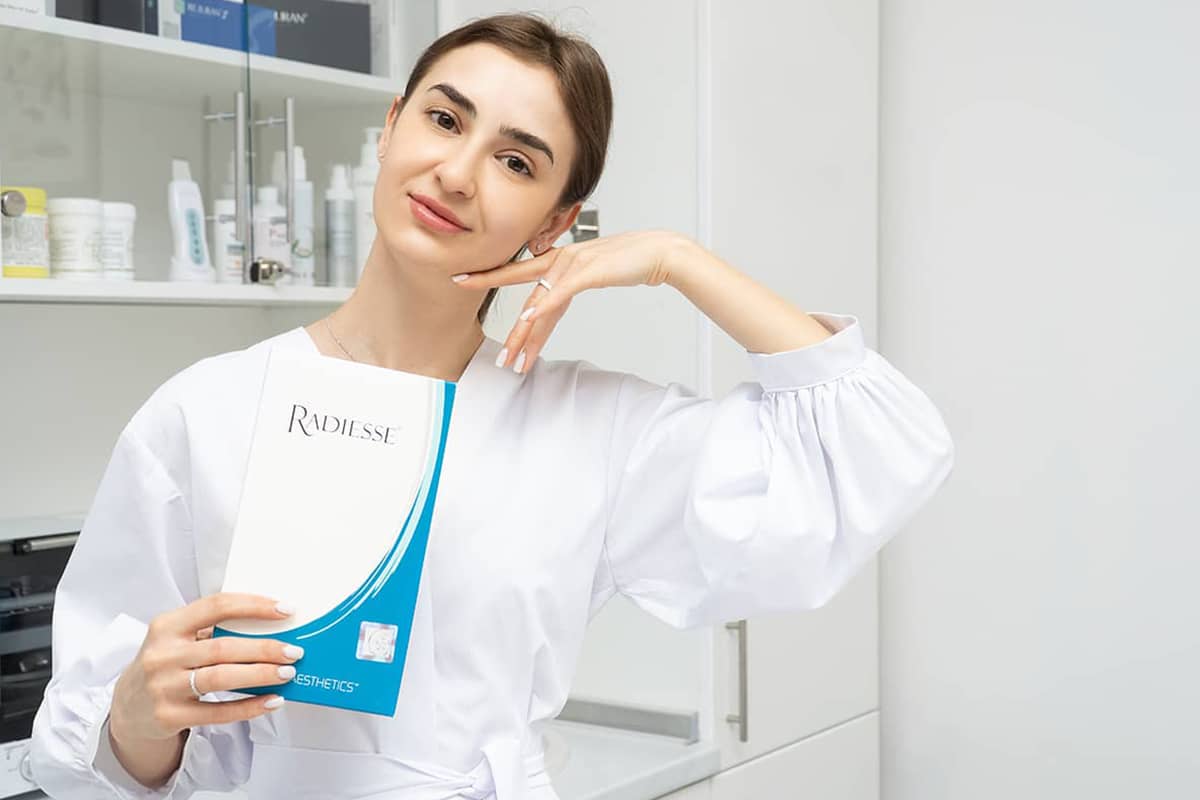 In summary, the Radiesse Procedure is an effective non-surgical procedure aimed at restoring volume loss, improving facial contours, and reducing the appearance of wrinkles and fine lines. With its active ingredients, natural collagen is stimulated, leaving the skin looking radiant and youthful for a long period. The injection process itself is quick and easy, although mild discomfort, swelling, and bruising may occur afterward.
Why Should I Choose Dr. Schrader?
Dr. Schrader has 20 years of experience, over 15 years in private practice in NJ, and performed hundreds of radiesse and other cosmetic procedures. Plastic surgery involves many choices. The first and most important is selecting a surgeon you can trust. Choosing an excellent facial plastic surgeon ensures that you have selected a physician who:
Is trained and experienced in all facial plastic surgery procedures
Operates only in accredited medical facilities
Adheres to a strict code of ethics
Is board certified by The American Board of Facial Plastic and Reconstructive Surgery (AAFPRS)
Click here to request your consultation with Dr. Schrader.
Frequently Asked Questions about Radiesse