A neck lift, also known as platysmaplasty, is a facial rejuvenation surgery that tightens the skin and underlying muscles in the neck. The recovery process is crucial for achieving optimal results and ensuring a smooth healing experience. In this article, we will discuss factors that affect neck lift recovery and provide six ways to speed up the healing process.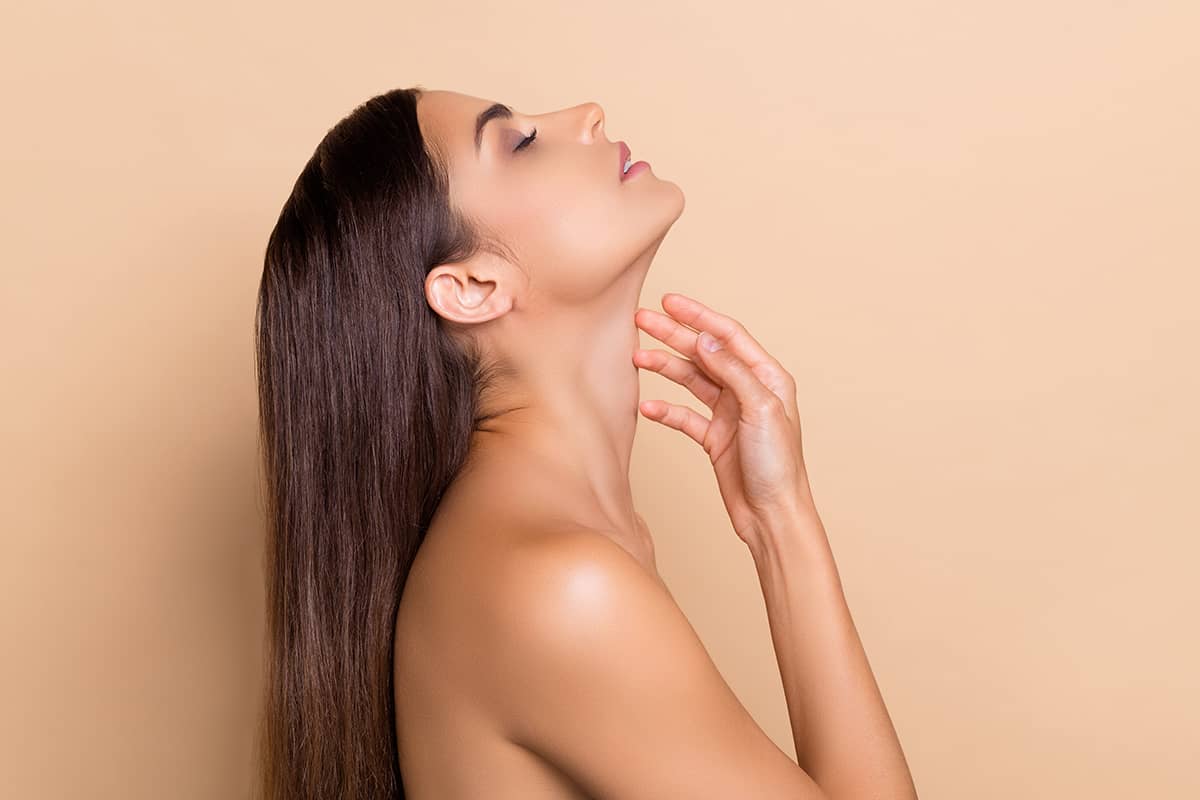 Factors That Affect Neck Lift Recovery
The neck lift recovery process can be influenced by several things, such as the patient's overall health, age, and adherence to post-operative care instructions. The extent of the surgical procedure, the patient's skin type, and individual healing capabilities can also impact the recovery time.
Ways to Promote Healing After a Neck Lift
To ensure the quickest recovery and achieve the best possible results, follow your surgeon's post-operative care instructions and adopt healthy habits that promote healing. Here are six ways to help you stay comfortable and speed up the neck lift recovery process:
1. Eat a Healthy, Nutritious Diet to Promote Healing
A balanced diet rich in vitamins, minerals, and antioxidants can significantly impact the healing process. Consuming foods high in vitamin C, such as citrus fruits, strawberries, and leafy greens, can aid in collagen production and promote healthy skin. Additionally, lean proteins and healthy fats can provide the body with essential nutrients to support recovery.
In addition to these foods, other nutrient-dense options can further support the healing process after neck lift surgery. For example, omega-3 fatty acids found in fish, walnuts, and flaxseeds can help reduce inflammation and promote healthy skin. Consuming adequate amounts of zinc, found in foods like oysters, lean beef, and pumpkin seeds, can aid in wound healing and support the immune system. During the initial consultation, be sure to ask about any dietary recommendations or restrictions to support an easy recovery and optimal results from your neck lift procedure.
2. Taking Enough Rest to Allow Your Body to Heal
Getting plenty of rest is crucial for the body to heal effectively, especially during the first week after a neck lift surgery. Ensure that you have a comfortable resting place prepared at home and keep your head elevated while sleeping to minimize swelling. Avoid any abrupt movements, especially during the first few days after the surgery.
It is recommended that you take time off work and daily activities to allow your body to relax and focus on healing. Wearing loose clothing can help prevent any discomfort or irritation on the neck skin and surgical site. Remember to follow your surgeon's aftercare instructions to minimize the risk of complications. As you progress in your recovery, gradually increase your activity level, but always consult with your surgeon before resuming strenuous exercise or regular activities.
3. Stay Hydrated and Drink Plenty of Water
Staying hydrated is essential for maintaining healthy skin. Adequate hydration can help prevent the accumulation of fluids, reduce the sensation of tightness, and promote faster healing. Drinking plenty of water also helps flush out toxins from the body.
Avoid caffeinated beverages and alcohol, as they can dehydrate the body and hinder the healing process. Caffeine is a vasoconstrictor, meaning it narrows the blood vessels and reduces blood flow to various parts of the body. This can hinder the delivery of oxygen, nutrients, and immune cells to the healing tissue, whereas alcohol can interfere with the formation of new blood vessels (angiogenesis) and the production of collagen, which are both needed for wound healing.
Also, avoid hot showers and steamy baths during the recovery process, as they can increase blood flow to the surgical site and potentially cause complications. Instead, opt for gentle showers with lukewarm water.
4. Avoid Strenuous Activities and Heavy Lifting
During the first few weeks of recovery, avoid strenuous activities and vigorous exercise, as they can increase blood pressure and cause additional swelling. Opt for light exercise instead, such as gentle walks, to help improve blood flow and reduce the risk of blood clot formation without putting too much strain on the body. Additionally, avoid heavy lifting and any activities that may strain the neck muscles.
As you recover, gradually increase your physical activity, but consult with your surgeon before resuming vigorous exercises or everyday activities. Wearing a supportive chin strap or compression bandages, as recommended by your surgeon, can help minimize swelling and provide additional support to the neck muscles during the healing process.
5. Taking Pain Medication as Prescribed
If your doctor recommends pain medication, take it as prescribed by your surgeon to manage discomfort and pain during the neck lift recovery process. Proper pain management can minimize stress and help you rest more comfortably, which is important for healing. Avoid taking any over-the-counter pain relievers without consulting your surgeon, as some medications can increase the risk of bleeding or interfere with the healing process.
6. Use Cold Compresses to Reduce Swelling and Bruising
Applying cold compresses to the neck area can help reduce swelling and bruising during the recovery process. Be sure to wrap the cold pack in a soft cloth to avoid direct contact with sensitive neck skin. Apply the cold compress for 20 minutes at a time, with at least a 20-minute break in between applications. Your surgeon's post-op care instructions will include the frequency and duration of cold compress applications.
The Importance of Following Your Surgeon's Instructions
Following your surgeon's post-operative care instructions will significantly impact your healing progress. These instructions may include guidelines on wound care, managing swelling and bruising, wearing a supportive chin strap, and attending follow-up appointments. Adhering to your surgeon's recommendations can help prevent complications and ensure a successful neck lift outcome.
Be mindful of warning signs, such as increased pain or visible signs of infection, and communicate any concerns with your plastic surgeon promptly. Stay hydrated and avoid excessive neck movements, strenuous exercise, and heavy lifting during the weeks after surgery to prevent complications. Prioritize your sleep and rest and maintain a positive attitude throughout the healing process to give yourself the best possible neck lift experience and help you achieve optimal results. With proper care, you can enjoy the aesthetic benefits of your neck lift procedure for years to come.
Request a Consultation
Dr. Nicole Schrader, double board-certified plastic surgeon and founder of Schrader Plastic Surgery in New Jersey, explains post-operative care to her patients during the patient consultation. Her approach to each neck lift varies according to what her patients need and each patient is given an explanation of the process, understanding how to care for themselves after surgery to ensure quick healing. To request your consultation with Dr. Nicole Schrader, please call 609-279-0009.