Closed rhinoplasty, also known as endonasal rhinoplasty, is a cosmetic surgical procedure designed to enhance both the functionality and appearance of the nose. This procedure is performed by making incisions inside the nostrils, resulting in less visible scarring and a more natural-looking outcome. In this article, we will discuss the closed rhinoplasty procedure, its benefits, and how to prepare for the surgery.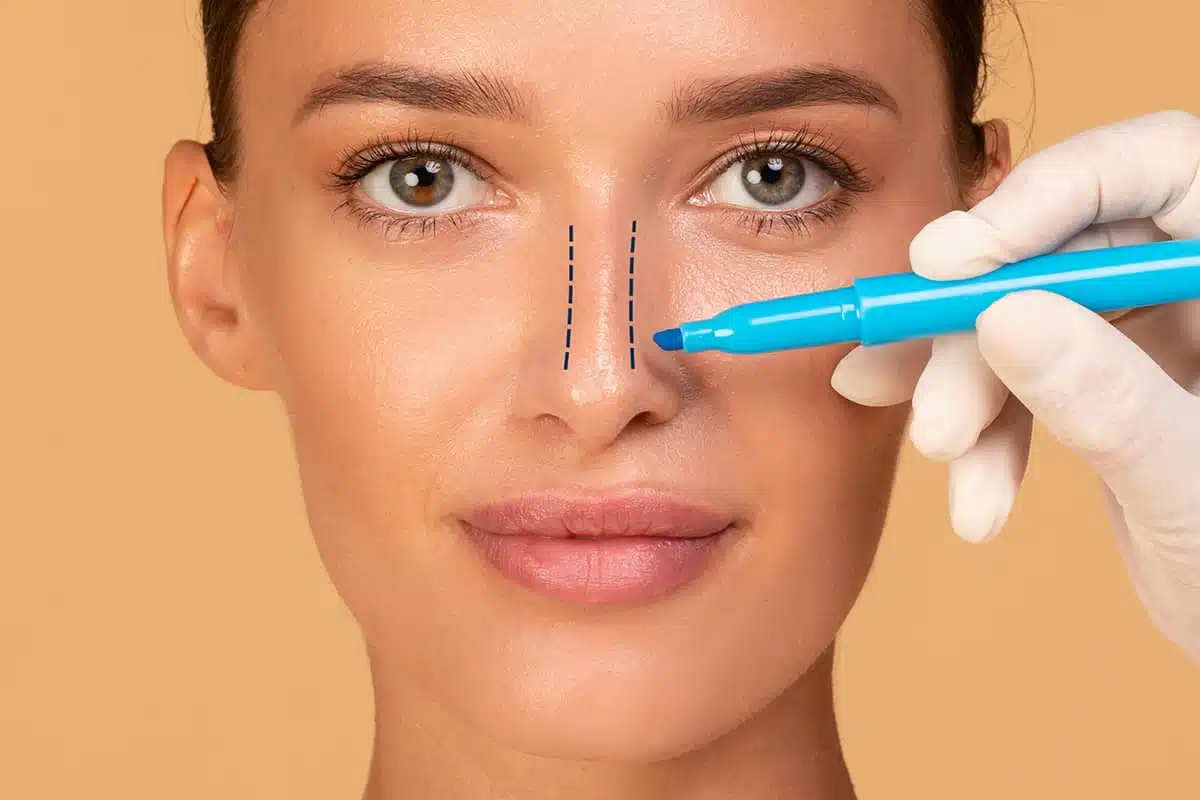 Understanding the Closed Rhinoplasty Procedure
Closed rhinoplasty is a surgical technique that involves making incisions within the nostrils to access the internal nasal structure. This approach allows the surgeon to reshape the nasal framework without making any external incisions, resulting in scarless nose surgery. The closed rhinoplasty technique is ideal for addressing issues such as reshaping the nose tip, shortening the nose, or removing a bump or dorsal hump.
During the procedure, the surgeon separates the nasal skin from the bone and cartilage underneath, enabling the reshaping of the nasal framework as needed. This can involve trimming or adding cartilage grafts, repositioning the nasal bones, or adjusting the nasal membrane to achieve the desired results. Once the necessary adjustments have been made, the surgeon will re-drape the nasal skin and close the internal incisions.
The Benefits of Closed Rhinoplasty
Some of the advantages of choosing a closed rhinoplasty technique over other types of nose surgeries include the following:
Less invasive: Since closed rhinoplasty involves making incisions within the nostrils, there is no need for an external incision on the columella (the tissue that separates the nostrils), making the procedure less invasive than open rhinoplasty.
Reduced scarring: Since all incisions are made internally, there is no external scarring. This can be particularly beneficial for patients who are concerned about the risk of scarring following surgery.
Shorter surgery time: Closed rhinoplasty typically takes less time to perform than open rhinoplasty, as there is no need to make an external incision or lift the nasal skin to access the internal nasal structure.
Quicker recovery: Patients who undergo closed rhinoplasty generally experience less swelling and a faster recovery time compared to those who have open rhinoplasty since the internal incisions and limited dissection of the nasal skin result in less tissue trauma.
Preservation of nasal structure: Closed rhinoplasty allows the surgeon to maintain the natural nasal anatomy, which can help to preserve the structural integrity of the nose and minimize the risk of complications.
How to Prepare for a Closed Rhinoplasty
Proper preparation for a closed rhinoplasty procedure is essential to ensure a smooth surgery and optimal results. Here are some steps you can take to prepare for your closed rhinoplasty:
Choose a qualified surgeon: It is important to select a board-certified facial plastic surgeon with extensive experience in performing closed rhinoplasty procedures to ensure that you receive the best possible care and achieve the desired results.
Schedule a consultation: During your consultation, your surgeon will evaluate your nasal structure, discuss your aesthetic goals, and determine if closed rhinoplasty is the best option for you. This is also an opportunity to ask any questions you may have about the procedure and recovery process.
Follow pre-operative instructions: Your surgeon will provide you with detailed instructions on how to prepare for your surgery. This may include stopping certain medications, avoiding smoking and alcohol, and arranging for someone to drive you home after the procedure.
Prepare your home for recovery: Ensure that you have a comfortable and clean environment to recover in after your surgery. Stock up on essentials like ice packs, over-the-counter pain relievers, and soft foods to help ease your recovery process.
What Happens During a Closed Rhinoplasty Procedure
A closed rhinoplasty procedure typically takes 1-2 hours to complete and is performed under general anesthesia. Here is an overview of what happens during the surgery:
Anesthesia: Your surgeon will administer general anesthesia to ensure your comfort and safety during the procedure.
Incisions: To access the internal nasal structure, the surgeon will create small incisions within the nostrils.
Reshaping: Depending on your specific goals, the surgeon may reshape the nasal bones, cartilage, or nasal membrane to achieve the desired results.
Closure: Once the necessary adjustments have been made, the surgeon will close the internal incision sites with sutures.
Recovery: After the surgery, you will be taken to a recovery area where you will be monitored by medical staff until you are ready to go home.
Recovery and Aftercare for Closed Rhinoplasty
The recovery process for closed rhinoplasty is generally quicker and less painful than that of open rhinoplasty. Here are some tips for ensuring a smooth recovery:
Rest and elevate: It is important to get plenty of rest and keep your head elevated during the first few days following surgery. This will help to minimize swelling and promote healing.
Avoid strenuous activities: Refrain from engaging in strenuous activities, heavy lifting, and exercise for at least 2-3 weeks after your surgery to prevent complications and promote healing.
Follow post-operative instructions: Abide by the given instructions on how to care for your nose and incisions during the recovery process.
Attend follow-up appointments: It is important to attend all scheduled follow-up appointments with your surgeon to monitor your progress and address any concerns.
Be patient: The final results of your surgery may not be apparent for several months, as the nasal skin, soft tissues, and internal nasal structure continue to heal and settle into their new positions.
Potential Risks and Complications of Closed Rhinoplasty
As with any surgical procedure, there are potential risks and complications associated with closed rhinoplasty. Some of these risks include:
Infection: Although rare, infections can occur after closed rhinoplasty, so make sure to follow post-operative care instructions to prevent them.
Bleeding: Some bleeding is normal after rhinoplasty, but excessive bleeding can cause complications. It is essential to avoid activities that may increase blood pressure, such as heavy lifting or strenuous exercise, during the recovery period.
Anesthesia complications: General anesthesia carries risks, including allergic reactions and breathing difficulties, therefore discuss any concerns with your anesthesiologist before the procedure.
Dissatisfaction with results: In some cases, patients may not be satisfied with the results of their closed-nose job. Revision rhinoplasty may be necessary to address any concerns and achieve the desired outcome.
It is crucial to discuss these risks and any concerns with your surgeon during your consultation to make an informed decision about closed rhinoplasty.
The Long-Term Results of Closed Rhinoplasty
Closed rhinoplasty can provide long-lasting, natural-looking results that enhance your facial appearance and improve nasal function, such as addressing issues like a crooked nose or nasal valve collapse. However, it is essential to have realistic expectations and understand that the final outcome may not be immediately apparent due to swelling and the ongoing healing process.
Most patients can expect to see the full results of their closed rhinoplasty surgery, or closed nose job, within 6-12 months after surgery. During this time, the nasal tissues, including the nasal membrane and nasal tip region, will continue to settle, and the swelling will gradually subside, revealing the new nose shape and improved facial balance.
To maintain the long-term results of your closed rhinoplasty, it is important to:
Avoid trauma to the nose, such as contact sports or other physical activities that may cause injury
Protect your nose from sun exposure, as this can cause discoloration and affect the healing process
Follow a healthy lifestyle, including a balanced diet and regular exercise
Schedule regular follow-up appointments with your facial plastic surgeon
By adhering to these guidelines and working closely with your facial plastic surgeon, you can enjoy the long-lasting benefits of your closed rhinoplasty procedure and maintain a harmonious, natural-looking nasal structure for years to come.
Why Closed Rhinoplasty May Be the Right Choice for You
Closed rhinoplasty may be the right choice if you seek a less invasive procedure with minimal scarring and quicker recovery time. This technique is particularly suited for patients who require minor to moderate adjustments to their nasal structure, such as reshaping and shortening the nose or removing a nasal hump.
By choosing a qualified and experienced facial plastic surgeon, you can ensure that your closed rhinoplasty procedure will be tailored to your unique needs and goals, resulting in a natural, harmonious appearance that enhances your facial features.
If you're considering closed rhinoplasty, schedule a consultation with a double board-certified facial plastic surgeon like Dr. Nicole Schrader to discuss your options and determine if this procedure is the best fit for you. Call the office at 609-279-0009 to take the first step toward achieving the nose you've always desired.