Are you wondering whether to go for a Silhouette Insta Lift or Facelift? Well, here are some pros and cons of each procedure.
What is Silhouette Insta Lift?
Silhouette Instalift New Jersey cosmetic procedure is an innovative non-surgical face-lifting technique using the latest technology available in the world. This treatment uses radio frequency to stimulate collagen production and tighten facial muscles.
This is done under local anesthesia and takes no longer than 30 minutes. It is painless and safe. There is no downtime required after the procedure.
How does it work?
The procedure works by inserting bi-directional cones through the skin and into the underlying tissues. These cones are made from polylactic acid, which is a synthetic material that has been shown to stimulate the production of collagen, a protein that is responsible for the elasticity and firmness of the skin.
The bi-directional cones not only stimulate collagen production but also dissolve over time, gradually releasing the collagen and encouraging further lifting and tightening of facial structures. Additionally, the Silhouette Insta lift involves the placement of biodegradable sutures that provide support to the facial tissues and further enhance the lifting effect.
Overall, this treatment offers instant lifting and tightening benefits with minimal recovery time, making it an ideal alternative to surgical facelifts for those with mild to moderate skin laxity. It is important to note, however, that the Silhouette Insta lift is not suitable for those with extensive sagging or loss of volume, and realistic expectations should always be discussed with a medical professional prior to undergoing the procedure.
Are Silhouette Insta Lifts Safe?
Silhouette Instalifts are safe, but not all women need them. The procedure involves cutting away excess skin through tiny incisions. This creates a smoother appearance and reduces wrinkles.
Ideal candidates for the procedure are those with good facial skin laxity, who are looking for minimal recovery time and instant lifting.
However, some women may prefer a Facelift instead. A facial lift lifts sagging muscles and tightens loose skin. It's performed by making small incisions along the jawline and removing excess fat and muscle tissue.
Does Silhouette Instalifit Hurt?
Silhouette Instalift is a great option for those who want to improve the appearance of their face without surgery. This non-invasive procedure uses radiofrequency energy to tighten facial muscles and skin. The results are subtle and natural looking, and patients report feeling no pain during treatment.
However, some patients experience mild discomfort after treatment, especially when the device is applied to areas where there is tightness. Some patients may feel slight burning sensations, redness, swelling, or itching in the treated area. These symptoms usually resolve within 24 hours
Silhouette Instalifit Pros
No surgery involved
No downtime required
Safe and effective
Silhouette Instalifit Cons
Results may vary depending on individual skin condition
May cause slight redness and swelling
What is Facelift?
A facelift, also known as a rhytidectomy, is a cosmetic surgery procedure designed to reduce visible signs of aging on the face and neck. It helps to restore the youthful contours of the face by addressing issues such as loss of volume in the cheeks and deep wrinkles around the mouth and eyes. This surgical procedure usually involves removing excess skin from the face and repositioning facial muscles to create a smoother, more lifted appearance.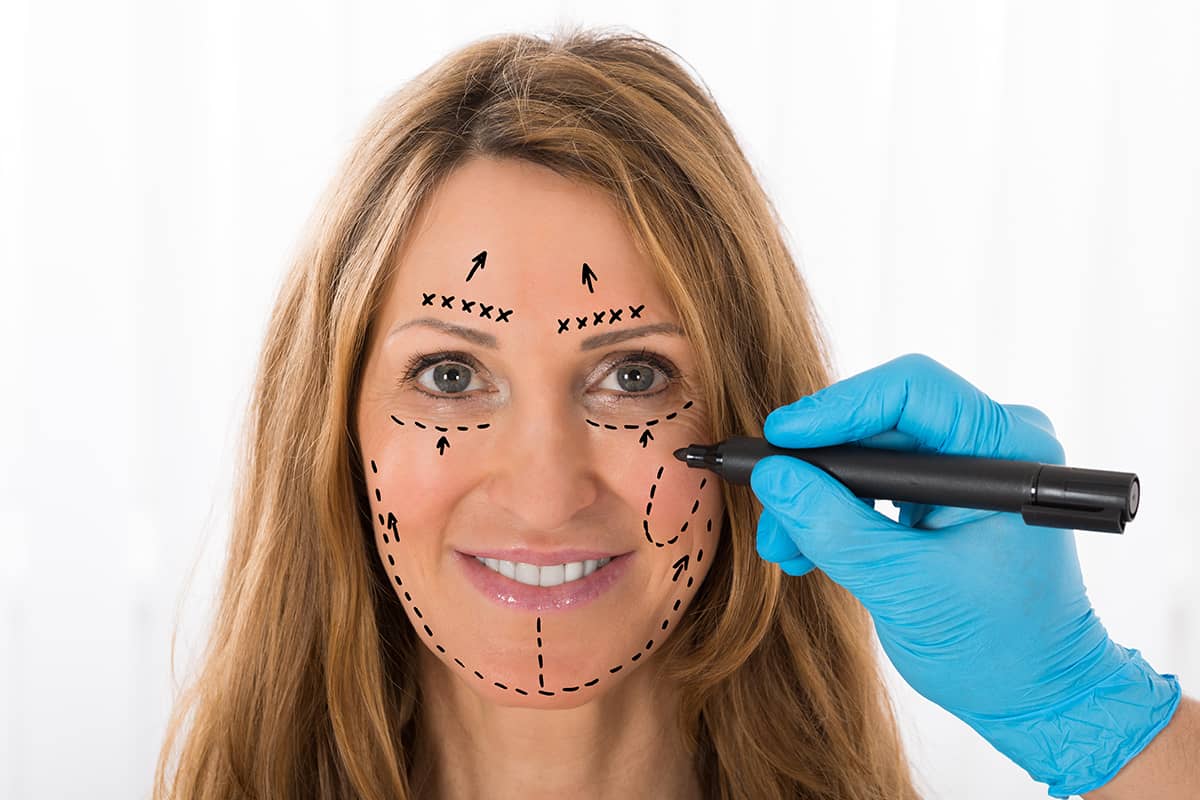 Facelifts are often done in conjunction with Skin Rejuvenation treatments such as laser resurfacing or chemical peels for maximum results. Traditional facelift surgery requires an incision along the hairline and in front of the ear, then lifting facial tissue up so that it can be tightened and stitched into place for a more youthful look.
Facelift Pros
Guaranteed results
Can improve overall facial contour
Minimal recovery time
Facelift Cons
Requires extensive training
Involves major surgery
Which one should I opt for?
When it comes to rejuvenating your face, two popular treatment options are Silhouette Instalift and facelift surgery. Deciding which method to choose depends on your aesthetic goals, facial condition, and budget.
If you have mild to moderate skin laxity and minimal sagging of facial tissues, Silhouette Instalift may be an ideal treatment. This procedure involves the insertion of bi-directional cones made from polylactic acid under the skin using dissolvable sutures. The cones anchor the underlying tissues and provide an instant lifting effect. The threads also stimulate collagen production, which improves skin texture and reduces fine lines and wrinkles. Silhouette Instalifts have a shorter recovery time, around 3-5 days, and cost less than facelift surgery.
On the other hand, facelift surgery is an invasive approach to rejuvenating facial skin. It involves lifting and tightening the facial structures to remove excess skin and correct facial sagging. Facelift surgery is highly effective in restoring facial volume and improving moderate to severe skin laxity. However, it requires a longer recovery time and a higher cost than Silhouette Instalift. Facelift surgery may also have possible side effects, such as bruising, swelling, numbness, or infection.
Keep in mind that both Silhouette Instalift and facelift surgery have their strengths and weaknesses, depending on your unique facial condition and aesthetic goals. Silhouette Instalift can provide an instant lifting effect with minimal recovery time and cost, but it may not be effective for extensive sagging or loss of volume. Facelift surgery can offer extensive rejuvenation, but it
In conclusion, opting for Silhouette Instalift or facelift surgery depends on your facial condition, aesthetic goals, budget, and realistic expectations. Consult with a skilled medical professional, like Dr. Nicole Schrader, to decide which treatment option is best suited to meet your needs and achieve your desired look.